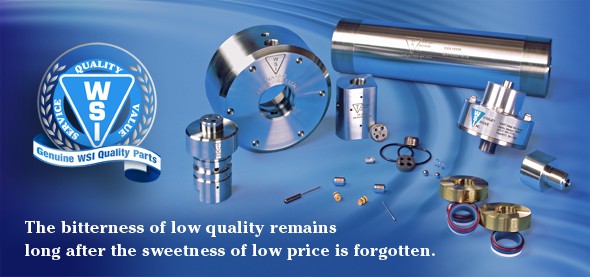 Using Genuine WSI Replacement Parts ensures optimum performance and reliability of your waterjet system day in and day out. Our parts are produced using the highest quality materials and are specifically engineered to work together seamlessly with your original pump as if it were new. The use of genuine WSI spare parts not only guarantees performance of your machine, but also maintains your warranty coverage which is lost if non-WSI parts are used.
Ask your supplier to ship your parts in the Original WSI Packaging as shown. Genuine parts are also laser marked to differentiate original parts from substandard imitations. The difference in packaging may be subtle but the difference in performance is remarkable!
Contact WSI today if your provider is not able to supply genuine WSI spare parts in the original WSI packaging. We can identify all Certified WSI Distributors in your area to be certain that our standards and your expectations are met where spare parts and best performance are concerned
View just a few of the Genuine WSI Spare Parts below and visit our Webshop at WSIStore.com to search, view, and purchase all parts for your WSI system.