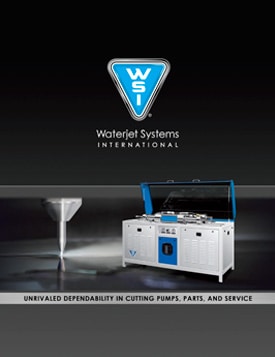 Longer Running Life – Reduced Operating Costs – Ease of Operation and Maintenance 
From low cost, self-contained, entry-level systems all the way to the powerhouse of the WSI pump family, WSI Waterjet Systems International waterjet cutting pumps have industrially-proven performance and reliability in thousands of installations worldwide and are powered by our patented intensifier technology.
Our pumps offer reduced operating costs, a longer running life and ease of operation and maintenance. WSI is the only waterjet designer and manufacturer to handcraft its high-pressure waterjet cutting pumps, components and replacement parts. Everything from frame welding to patented technology is created onsite by WSI's skilled team of engineers and machinists.
No matter the industry or size of your business, we can work with you to create a variety of waterjet cutting solutions designed to meet your individual cutting needs.