E60C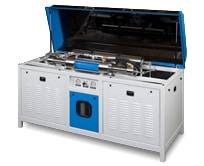 E60C
The "c" in E60c denotes full side and top covers for the E60 pump. A transparent top cover allows quick visual inspections and includes gas damping lifts for effortless access. Louvered side covers provide full-flow air cooling and are lined with noise dampening materials for whisper quite operation. Side and top covers are easily removed for 360 degree access.
Specifications
Maximum Operating Pressure:
High-Pressure Flow Rate:
Intensifier Cycle Rate:
26 cycles/min. at max. flow rate
Electrical System:
Main Motor: 50 hp / 37 kW (TEFC)

208v / 3 ph. / 60 Hz
230v / 3 ph. / 60 Hz
460v / 3 ph. / 60 Hz
190v / 3 ph. / 50 Hz
380v / 3 ph. / 50 Hz

Air/Oil Heat Exchanger Motor:

1/4 hp / 0.18 kW
120 VAC / 1 ph. / 60-50 Hz
208 VAC / 1 ph. / 60-50 Hz
230 VAC / 1 ph. / 60-50 Hz

Motor Speeds:

1800 rpm @ 60 Hz
1500 rpm @ 50 Hz

Controls:
Safety Shutdown Circuits:

High Oil Temperature
Low Oil Level
Low Water Pressure
Intensifier Over-speed
Intensifier Stall
Hydraulic System:
4.33 cu. in. (71 cu. cm) Axial Piston Pump
Max. Operating Pressure: 3,000 psi (207 bars)
Cooling Water Flow Rate: 2 gpm (7.56 lpm)
Low Pressure Cutting Water System:
Optimum Inlet Pressure: 65 psi (4.50 bars)
Booster Pump Setting: 225 psi (15.5 bars))
Orifice Capacity at 55,000 psi (3,800 bars):
Quantity / Orifice Diameter
1 – 0.015 in. (0.38 mm)
2 – 0.011 in. (0.28 mm)
5 – 0.007 in. (0.17 mm)
9 – 0.005 in. (0.12 mm)
Physical Dimensions:
Height: 44 inches (1.12 meters)
Width: 32 inches (0.80 meter)
Length: 80 inches (2 meters)
Weight: 2,350 pounds (1,068 kg)
Features and Advantages
Proven, heavy-duty, industrial, high-pressure intensifier with ceramic plungers.
Slow intensifier speed – 26 cycles/minute. This slow speed both reduces the number of pressure spikes in the system and reduces the number of pressure reversals. This slow speed virtually doubles the fatigue life as compared to other waterjet pumps.
Patented "DuraCheck" check valves utilize replaceable seats on both ends of the check valve. This technology, offered only by WSI, greatly extends check valve operational life as it isolates and protects the expensive check valve body from damage.
One large (6″ OD) accumulator insures low pulsations in the high-pressure system.
A pneumatic bleed-down assembly provides for depressurization of the high-pressure system immediately upon shutdown.
All high-pressure tubing and fittings are Autoclave.
Highly reliable proximity switches control the sequencing of the intensifier.
Oversized, low-load motor.
Low hydraulic oil pressure – 3,000 psi / 207 bars.
A dial, main compensator allows for simple control of the cutting water pressure.
A dual compensator provides lower, alternative, preset cutting pressures for tasks such as piercing or drilling.
The unit has a hydraulic oil cooling system with a full-flow oil heat exchanger.
The oil reservoir has two access doors for easy maintenance.
Brass fittings are used on the entire inlet water system to protect against corrosion.
A complete set of spares, special tools, and comprehensive manuals are included with each unit.