WSI Waterjet Parts for Flow Waterjet & H20 Waterjet
WSI Waterjet manufactures an extensive line of premium waterjet components for use on Flow water jet and H2O Jet pumps and cutting heads. Our products have been relied on by many of the world's largest, most selective automotive and aerospace manufacturers for over 30 years to keep their waterjet systems running efficiently. These same style of Flow waterjet parts and H2O waterjet parts are available to your company, regardless of size, at competitive prices.
Register or browse our products or contact us directly to experience WSI's industry leading performance and customer service.
Download FLOW-STYLE and H20 JET-STYLE REPLACEMENT Parts Catalog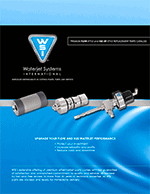 PREMIUM FLOW-STYLE and H20 JET-STYLE REPLACEMENT PARTS CATALOG
Download
WSI Waterjet™ Systems International manufactures its own waterjet products and is in no way associated with Flow Waterjet. Corporate names, trademarks, and part numbers referenced in this catalog are the property of their respective companies. Flow Waterjet is a registered trademark of Flow Waterjet.